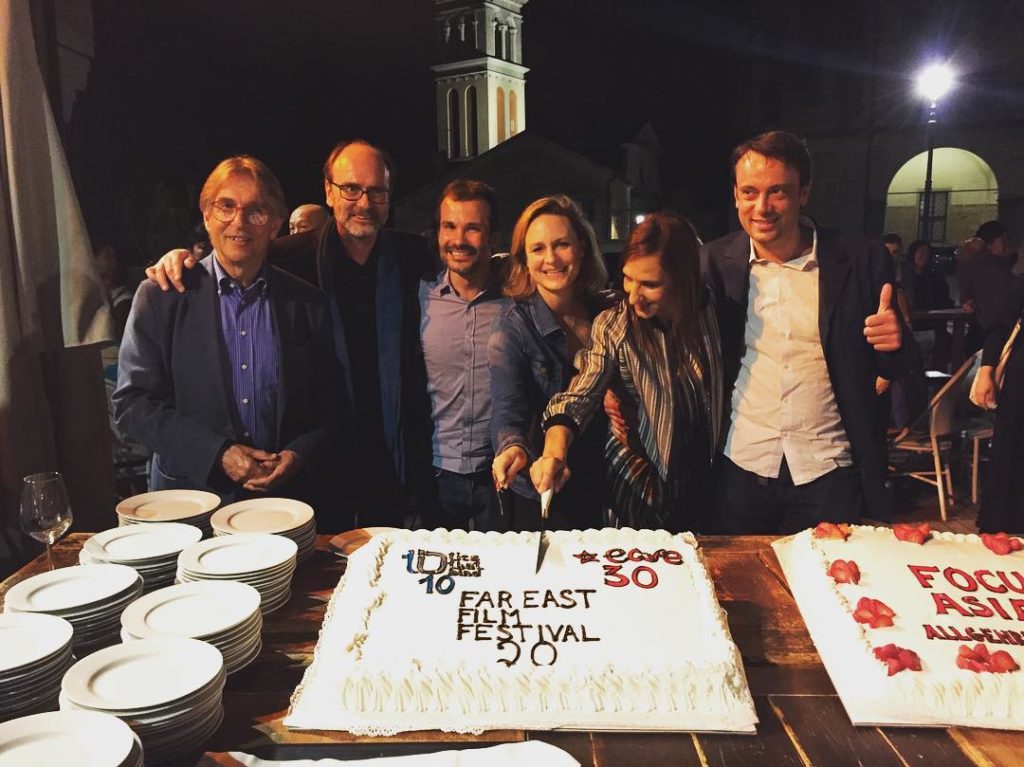 Al via la prossima settimana la nuova edizione di TIES THAT BIND Asia – Europe Co-Production Workshop giunto quest'anno alla decima edizione! Divenuto nel corso degli anni un punto di riferimento per lo sviluppo di nuove co-produzioni tra Europa ed Asia, sono numerosi i successi raggiunti dai progetti delle scorse edizioni ai più importanti Festival europei ed internazionali. Solo per citarne alcuni:
THE SEEN AND UNSEEN di Kamila Andini premiato al TIFF's Platform section 2017 e vincitore del Grand Prize of the Generation 14plus International Jury at Berlinale 2018; world sales: Cercamon
BITTER FLOWERS di Olivier Meys ha avuto la sua premiere internazionale alla Fast Forward section del Busan International Film Festival 2017; international sales: Loco Films & Asia-Pacific sales: Beijing Culture
A YELLOW BIRD di K. Rajagopal premiato a Cannes Critics' Week 2016; world sales: Alpha Violet
DOG DAYS di Jordan Schiele ha avuto la sua premiere nella sezione Panorama alla Berlinale 2016; world sales: Bravos Pictures
INTERCHANGE di Dain Iskandar Said è stato presentato in Piazza Grande al Festival del Film Locarno 2016; international sales: Reel Suspects & North America sales XYZ Films
BIG FATHER, SMALL FATHER AND OTHER STORIES di Di Phan Dang premiato nella Berlinale Competition 2015; world sales: Urban Distribution International
CHI – MR. ZHANG BELIEVES di Jiongjiong Qiu ha avuto la sua world premiere a Signs of Live sezione del Festival del Film Locarno 2015; world sales: All Ways Pictures
FLAPPING IN THE MIDDLE OF NOWHERE di Hoang Diep Nguyen ha vinto come Best Film a Venice Critics' Week in 2014; world sales: Premium Films.
Il primo dei due workshop si terrà a Udine dal 24 al 28 Aprile nell'ambito dell'Udine Far East Film Festival (20 – 28 aprile 2018). Il secondo workshop si terrà a Singapore in dicembre durante il Southeast Asian Film Financing Forum (SAFF). TIES THAT BIND è organizzato da Fondo Audiovisivo FVG, EAVE, Udine Far East Film Festival e Southeast Asian Audio-Visual Association (SAAVA), con il supporto di Europa Creativa – MEDIA, Silver Media Group e Aurora Global Media Capital.
Questi i 10 produttori con progetto selezionati assieme a 5 professionisti che intendono incrementare le proprie conoscenze/contatti verso l'Asia:
Bulgaria Vesela Kazakova, Activist 38
Finland Mark Lwoff, Bufo Project: Memory of Water by Saara Saarela
France Jordane Oudin, Hippocampe Productions Project: Riddle by Zhou Hao
Greece Konstantinos Vassilaros, StudioBauhaus Project: Holy Emy by Araceli Lemos
Indonesia Yulia Evina Bhara, KawanKawan Media Project: Autobiography by Makbul Mubarak
Italy Iole Maria Giannatasio, MiBACT
Japan Eiko Mizuno-Gray, Loaded Films Project: Where Wolves Fear to Prey by Jason Gray
Myanmar Ma Aeint, Electronic Pictures Project: The Other Side of the River by Maung Maung San
Philippines Monster Jimenez, Arkeo Films Project: Return of the Owl by Martika Ramirez Escobar
Switzerland Sarah Schiesser, Locarno Festival
Taiwan Zi-Ning Chiou, Fennec Pictures Project: 23.5°N by Zi-Ning Chiou
The Netherlands Inke Van Loocke, International Film Festival Rotterdam
Ukraine Anna Skrypka, Waverly Pictures Project: Mango Avenue by Don Gerardo Frasco
United Kingdom Weerada Sucharitkul, FilmDoo and Anna von Dziembowska, Victoria Films Project: Far Frontiers by Maxim Dashkin
News
del 16 Aprile 2018