Presentazione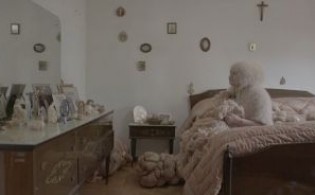 Genre Short movie
Director D.Vrizzi
Screenwriter D.Vrizzi
Production Company Agherose
Website Agherose.com
We are within the deepest Universe, surrounded by hypnotic stars that quickly fly near us. Debora is dressed with a unique astronaut suit: she is floating in the Space and has a red rope tied at her waist that looks like an umbilical cord, which is floating with her. After a space turbulence, she wakes up in an environment that she hardly recognizes, and she is exhausted.
It is a domestic environment full of holy cards and small crucified Christs. There must be the home of an old person. A voice, which belongs to Grandma Bianca, is praying a rosary and singing, and she guides Debora through her exploration of that space. Debora insinuates herself in grandma's house, where she discovers everyday objects that had metamorphosed.
The kitchen will be the place in which the main character will meet two aliens. All three of them are sitting around a table that has a wound in his center and they communicate telepathically, telling us the other of life.
Supported for the Development and the Distribution

Credits
Regia/Director: D.Vrizzi
Sceneggiatura/Screenwriter: D.Vrizzi
Fotografia/DOP: D.Vrizzi, S.Paravan
Montaggio/Editor: M.F.Valmori
Suono/Sound: H.Gergolet
Musiche originali/Music: U.Smerilli
Produzione/Production company: Agherose